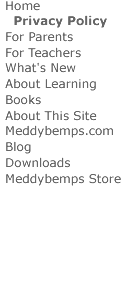 ...
.
...
Our policy is simple.
We do not gather personal information about visitors to MeddybempsGuide.com. The server hosting our site counts the times pages and images are viewed as well as other data related to activity on the site. It does not gather any data that would identify visitors. It does not track your actions or serve up content based on your behavior and interests.

Google Ads
MeddybempsGuide.com does contain advertising served by Google. The ads that appear may be determined by your interests and viewing history as determined by Google. We don't collect or refer to this kind of data.

Amazon Referrals
MeddybempsGuide.com contains links to Amazon.com through recommendations of books. If you click though to Amazon for more information about a book and also make a purchase, Amazon will gather appropriate data, host the transaction, and ship your purchase. They will also send us a small commission.

Meddybemps Store
Purchases of products from Zazzle.com and CafePress.com are handled by those two firms. They handle the transactions and then produce and ship the products. They provide us with records of sales but no credit card information. They pay us a royalty on each sale.

Downloadable Products
Purchases of downloadable products are handled by a combination of Payloadz.com and PayPal.com. Payloadz facilitates the transfer of files once payment has been made through PayPal's secure system. Only Paypal sees the credit card or PayPal account information associated with these sales.

Physical products are sometimes sold through PayPal. We have offered a CD-ROM collection of Story Starters. In these cases, we are given your name and address so that we can ship the product to you. We do not see your credit card or PayPal account information.

Story Starters
If a parent or teacher sends us stories that children have written or dictated using our Young Writers Workshop story starter pages, we record the submissions and publish selected stories. Each submission must be accompanied by written permission from a parent. The children's addresses and last names are not published. None of the associated personal information is shared with anyone else.

Mail and Email
We do receive and reply to mail and email. Questions, compliments, and criticisms are all welcome. We save it all for reference to help us improve the site.

Social Media
We do post Tweets on Twitter from time to time. We add to our blog now and then. We sometimes promote new content on Facebook. We see only whatever personal information accompanies your communications to us through this media.


MeddybempsGuide.com exists to help parents and teachers get the most use out of Meddybemps.com. Income from advertising, Amazon referrals, print-on-demand products, and downloads helps pay for hosting, occasional software updates, and the odd piece of hardware. There is no advertising to children on Meddybemps.com.

In short, we don't sell, trade, or give away your personal information. The little bit we do gather has to do with Story Starters, social media, and mail/email.






© 2015 Jerry Jindrich. All rights reserved.
Return to top of page.