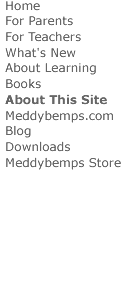 ...
.
...
An Internet Pioneer
Meddybemps.com was created in 1995 for young children and their parents and teachers. Over the years the site has increased tremendously in the numbers of topics and stories and in the number of visitors, yet it still maintains its unique look and feel and its inventive and playful approach to learning concepts.

A Companion to Meddybemps.com
In November, 2015, we begin our twenty-first year online. To make ourselves more useful, we are expanding the information and resources created for parents and teachers and have moved it to MeddybempsGuide.com.

At the same time we are adding new content for children to Meddybemps.com, which will remain a free site with no subscription required and no user login.

The Creators
These two sites are almost entirely the work of Jerry and Susan Jindrich. Susan is the professional educator. Jerry is everything else. A freelancer provided a few of the Flash interactive games. A relative allowed us to use his photographs of African animals. All the illustrations, photographs, and stories are by Jerry Jindrich, with the exception of the stories and illustrations by children published in the Young Writers Workshop area. More about Susan and Jerry (on a page on Meddybemps.com).

Who recommends Meddybemps.com?
There are thousands of sites that contain links to Meddybemps.com. These represent universities, education departments, schools, teachers, and libraries. Here is a sampling. (This is a page on Meddybemps.com)

How popular is Meddybemps.com?
In a single month, we have enjoyed as many as 264,000 visits to our site from over 195,000 unique visitors who viewed 1,866,000 pages! Our traffic has fallen off some due to the introduction and widespread use of iPads rather than desktop computers. This is because some of our most engaging content requires a Flash player.

Copyright and Trademark
The name Chateau Meddybemps® is a registered trademark used in conjunction with these two sites and a variety of products associated with them. All content on the sites is copyrighted by Jerry or Susan except where noted.

Contact Information
Jerry and Susan Jindrich
Chateau Meddybemps
P.O. Box 1054
Newburgh, Indiana 47629, U.S.A.
812-853-7693
bananas@meddybemps.com



Return to top.
© 2015 Jerry Jindrich. All rights reserved.